TECHNICAL RESOURCES AND CAMP FACILITIES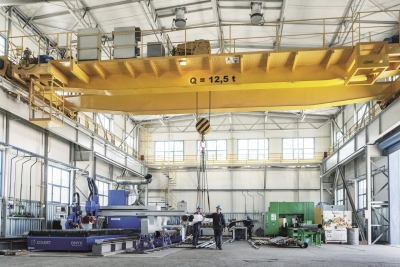 Over 8000 sq m of workshop space enables specialist welding, prefabrication of pipelines, apparatus and steel constructions.

Extensive, modern and adequately equipped facilities of the terbud company in Płock and Włocławek allow for anti-corrosion / chemical-resistant protection of a wide spectrum of surfaces with simple and complex shapes.

Sheet metal workshops equipped with all necessary tools and machines allow for very efficient prefabrication of insulation sheaths for most industrial facilities.

Specialized equipment for hydro-abrasive cleaning under ultra-high pressure water, allowing for cleaning and clearing of most post-production sediments in the chemical and petrochemical industry.
MECHANICAL INDUSTRY

TECHNICAL BACKGROUND:

• Modern prefabrication halls with an area 2200 M2 + a 12.5t gantry crane

• Leased prefabrication halls with an area 5.000M2 + 3.5t gantry crane

• Office and social space, Włocławek with an area 560 M2

• Office and social space, Płock area 700 M2

• Leased office and social space of the area 450 M2

• Paved places with an area 14,200 M2

• Leased paved plots with an area 10,000 M2

• Plasma oxygen cnc eckert onyx

• Facilizing machine 4hcj with working parameters - 3050/48/40

• Welding column by saf starmatic 1303dc

• 80T roller rotators

• Band sawing machines - 4 items

• Hydraulic universal shears hydracrop 80s

• Welding devices for companies: fronius, lincoln, esab, kempi, bester - approx. 60 pcs.

• Wo6512 resistance heat annealer + accessories

• Centers, bevels, lathes, milling machines, band saws, hydraulic presses

• Radial, hull, column, guillotine shears

• Specialized hydraulic-pneumatic torque wrenches

• Pressure testing devices

• Equipment for leak testing and f-gas refilling

LIFTING EQUIPMENT:

• Liebherr LTL 1070-4 mobile crane. (70T)

• Liebherr ltm 1050-1 mobile crane (50t)

• Caterpillar telescope 360b + accessories

• telehandler maitou mvt 1340 + tool

• telehandler maitou mrt 2150 (rotary) + accessories

• 4t forklifts (3 pcs)

• Vw lt 35 from hds

ANTICORROSION BRANCH

HIGH PRESSURE WATER JET UNITS:

• URACA Jetpower 180-2800 (2800 bar) - 4 units (including one unit with the possibility of conversion to 77 l / min.)

• URACA KD 716 (2800 bar)

• URACA AWE 1000 (1000 bar)

• Falch aqua speed (500 bar)

• Nlb Type 15305d 110 l / min (1000 bar)

• Wemaa AS 600 (600 bar)

• Wemaa devices for pressure testing - 2 items

• Kaercher (steam, hot water)

• WATER JET cleaning devices (EX, dustless) SANDBOT - 4 pcs., So-called Hydroblasting.

COMBUSTION COMPRESSORS, MOBILE:

• Atlas copco xats 377
• Ingersoll-rand 9/300
• Ingersoll-rand xp 750
• Ingersoll-rand xp 900
• Kaeser m-121
• Kaeser m- 56

ELECTRIC COMPRESSORS, STATIONARY:

• Atlas copco gx 7
• Atlas copco gx 11 szt.2
• Albert e 50 szt.2

HYDRODYNAMIC AGGREGATES:

• Graco XM-70 - hydrodynamic application of two-component materials

• Graco Reactor HXP-3 - spraying and pouring 2-component polyurethane foams and polymer coatings (2 pcs)

• VIWA Herkules PFP - application of fireproof materials (3 pcs)

• VIWA, GRACO Aggregates for airless spraying of anti-corrosive materials (6pcs)

• Air dryer BDHM 140 14kg / h

• Equipment for dust-free abrasive blasting

• Mobile sandblasting tanks (from 1m3 to 6m3) - 23 stations

• Expansion tanks - 5 pcs

• Devices for the preparation of compressed air

• Specialized measuring devices

THERMAL INSULATION BRANCH

TECHNICAL BACKGROUND:

• Workshops - 1800 M2

• Universal device for cutting insulation jackets, CNC Schwartmanns EMF-L

• Production lines for developing, cutting and laminating sheets - 2 pcs.

• Hydraulic and mechanical guillotines for cutting sheet metal and coopers (Eclair, Schwartmanns)

• Flanging, grooving, coiling, felting, cutting, welding machines (Schwartmanns, Mabi, Sorex)

• Testo thermal imaging camera and other specialist measuring devices

• Camera for inspection of pipelines

SCAFFOLDING ASSEMBLY BRANCH

• Scaffolding equipment (Bauman-Mostostal) Rotax System

• Cranes and hoists equipped with personal and freight baskets

• Mountaineering equipment

• Construction chutes, electric winches

OTHER EQUIPMENT

• Mobile social and workshop facilities (steel containers) with an area of more than 2200 M2

• Own means of transport (63 items), including vans, cars, tractors, logs, trailers.

• Power generators 13kw and 100kw.

• Industrial vacuum cleaners - 4 pcs. + Extractors